Purchase $25 in teaching resources and save $5.
Purchase $50 in teaching resources and save $10.
Looking for a specific topic or standard? Search below!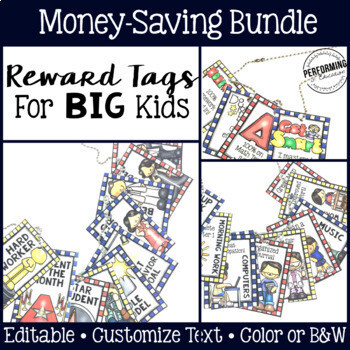 Classroom Management Reward Tags for Big Kids: Editable Bundle!
SKU 00189
Product Details
These reward tags are great for upper elementary students! They are editable so that you can customize them for your own classroom. These are great for positive classroom management! Each of the twelve tags come in color and b&w for easy printing. Because you can customize them, you can create unlimited variations of tags!
Includes the customizable storage label ______'s Reward Tags!
Looking for the DIGITAL, paperless tags? Find them here
Comes with six files:
-3 Editable Powerpoints: Type in your customization, then print!
-3 Non-editable PDFs: Print then hand-write customization
Includes the following 3 brag tag resources:

Subject Area Tags
12 Fully-editable Color Tags
12 Fully-editable B&W Tags
-Reading
-Writing
-Math
-Science
-Social Studies
-Morning Work
-Independent Work
-Group Work
-Music
-Physical Education
-Library
-Computers
-Art

Behavior & Attitude Tags
10 EDITABLE color tags
10 EDITABLE b&w tags
Use for all sorts of behavior achievements!
-Hard worker
-Student of the month
-Star student
-Student of the week
-Role model
-Met behavior goal
-Improved behavior
-Positive attitude
-and more!

Academic Reward Tags
4 EDITABLE tags (color and b&W) - editable for unlimited uses
Use for all sorts of academic achievements!
-Scoring 100% on a unit test
-Mastering a specific skill (like adding decimals)
-Effort/improvement in a specific subject
-Turning in homework completed and on time
-High score or excellent effort on big projects
-Report card grades
-and more!
Save this product for later