Purchase $25 in teaching resources and save $5.
Purchase $50 in teaching resources and save $10.
Looking for a specific topic or standard? Search below!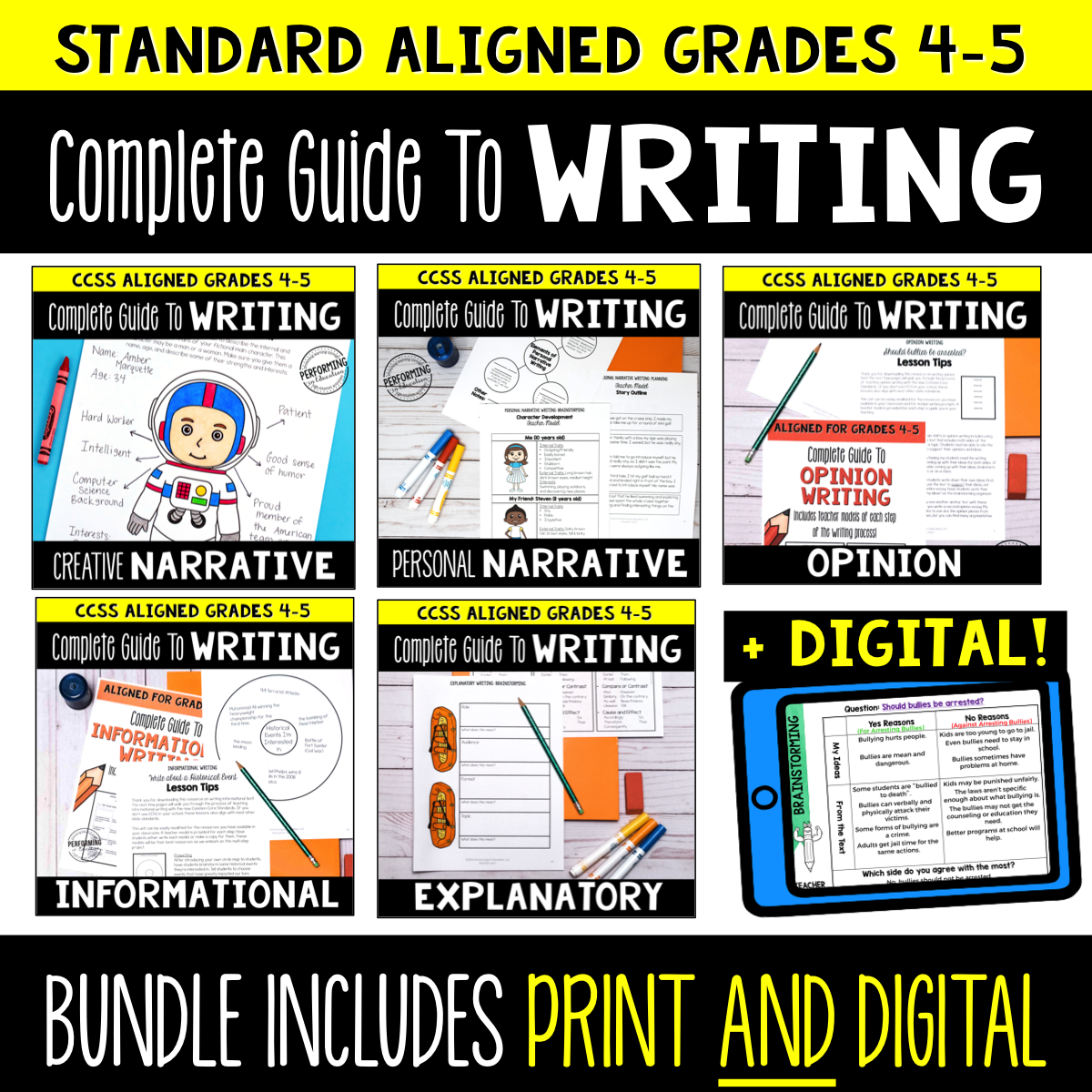 Complete Guide to Writing [Curriculum Bundle]
SKU 00000
Product Details
Teach Opinion, Informational, Explanatory, Personal Narrative, and Creative Narrative writing like a pro with these no-prep writing units! Each unit includes teacher examples and printable student pages. Print out the pages you need, and you're all set to teach your students how to write incredible, well organized essays! Great for 4th & 5th grade teachers that want to easily teach their students the writing process with all student organizers and teacher models included!
Click here to see the individual units for a better preview of each.
This bundle includes the following resources:
Complete Guide to Informational Writing
Complete Guide to Opinion Writing
Complete Guide to Explanatory Writing
Complete Guide to Creative Narrative Writing
Complete Guide to Personal Narrative Writing
Each unit includes every step of the writing process, including:
Brainstorming
Organization
Planning
Transition words or Dialogue
Rough Drafts
Revision
Editing
Publishing
+ Digital Copies of each resource
Feedback:
"I really love this! I'm new to teaching fifth grade (coming from first) so I really didn't know how to begin teaching writing with my kids. These are awesome for anyone who doesn't know where to begin or wants a more organized, formal writing curriculum to help students! Definitely recommended" -Kaitlyn M.
"Love this bundle! I love how everything is so well planned and laid out to make it very user friendly. Thank you!!!" -Emily
"This is everything I need to teach the different types of writing to my students. Great resource!" Julie W.
"These writing units are so amazing that I wish I could score it above an A! The material is engaging, the lessons are well thought-out and complete, and the plan is easy to follow and adapt to my classroom needs. Great product!"
Save this product for later