Purchase $25 in teaching resources and save $5.
Purchase $50 in teaching resources and save $10.
Looking for a specific topic or standard? Search below!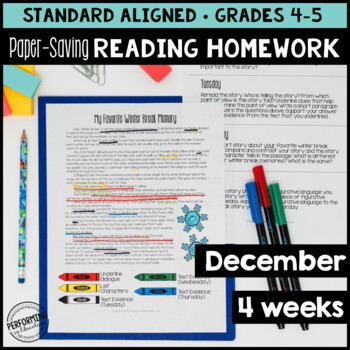 December Reading Homework for 4th & 5th PAPER-SAVING color text-based evidence
SKU 00218
Product Details
Four weeks of paper-saving December Reading Homework Pages! These are winter themed and focus on spiraling the literature reading standards. Christmas is not mentioned, so these passages are appropriate for any school. Your students will provide written responses to the standard-aligned questions and mark text-based evidence using color coding. Each week can be printed onto just ONE double sided page.

"Preview" this resource now to see how easy it is to print this 1 (double sided) page Reading homework for your 4th or 5th graders!

Week 1: Baking with Grandma (Play)
Week 2: The Sled (Fiction)
Week 3: My Favorite Winter Break Memory (Narrative)
Week 4: Winter Solstice (Play)

This resource includes 4 literature passages. Each passage includes 4 days of response to reading and color-coded underlining that meets Common Core State Standards. That's a total of 16 days of homework!

*****************************************************************************
Buy the Bundle For All 11 Months
Click here to see the bundle.

*****************************************************************************
Love Interactive Notebooks, but hate finding text to pair them with?
Check out my unique Interactive Reading Notebooks with Mini-lessons. Each standard includes an interactive notebook page, mentor text mini-lesson, and teacher example. Check out the book from your local library, print, and GO! They are available in 4th, 5th, and 6th and are aligned to the CCSS.
Save this product for later