Purchase $25 in teaching resources and save $5.
Purchase $50 in teaching resources and save $10.
Looking for a specific topic or standard? Search below!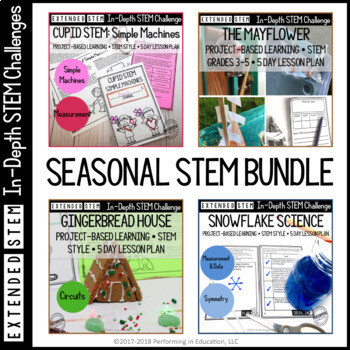 Extended Seasonal STEM Project-Based Learning Bundle for Grades 3, 4, and 5
SKU 00225
Product Details
Are you looking for more extensive hands-on STEM challenges for your students? Check out this awesome bundle of STEM-centered project-based learning activities! Each resource comes with a full 5 days of lesson plans, student pages, and a reading passage. I recommend these projects for grades 3, 4, and 5.
Click on the individual links for a better preview of each project.
Print & Digital Versions of the Student Pages are BOTH Included!
Resources Included
Any new STEM PBLs I produce for grades 3-5 will be added to this bundle. Anyone that owns the bundle will be able to return and download them for no additional cost. Thank you for being a loyal follower!
Valentine's Day STEM
Mayflower STEM
Gingerbread STEM
Snowflake STEM
All of my projects include e-mail support. Check the feedback below to see what it's all about!
Save this product for later