Purchase $25 in teaching resources and save $5.
Purchase $50 in teaching resources and save $10.
Looking for a specific topic or standard? Search below!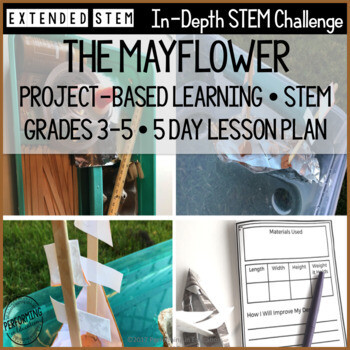 November STEM Project-Based Learning Activity - Mayflower Theme (5 Day Lesson)
SKU 00226
Product Details
Are you looking for more extensive STEM challenges for your students? Check out this Mayflower STEM project-based learning activity! It's aligned with both language arts (ELA) standards and science / engineering standards (NGSS). I recommend this project for grades 3, 4, and 5.

Print & Digital Versions of the Student Pages are BOTH Included!

*A sample 5 day lesson plan and rubric is created. Student pages are included as well. It's all inclusive!

Standards Incorporated:
R.I.1, R.I.2, R.I.3
Speaking and Listening: Standard 1
Writing: Standard 8
NGSS: 3-5-ETS1-1, 3-5-ETS1-2, 3-5-ETS1-3

Driving Question: How can we create a mini-Mayflower that floats well and carries weight?

Follow the process below to complete your project:
1. Read about the Mayflower (passage included).
2. Research about the Mayflower (asking questions / citing sources).
3. Design a small Mayflower (engineering process).
4. Test your ship (testing and discussion).
5. Make the ship better (revise).
6. Test again
7. Reflect

Supplies: You can give students a variety of household and craft items, but these are the ones I used. I also included a supply letter to send home to parents.

brown molding clay or play dough
brown acrylic paint
brown or wood grain duct tape
toothpicks
foil
egg cartons
paint brushes
popsicle sticks
marbles
scale
liquid glue
scissors
white paper

Rubric included!

All of my PBLs include e-mail support. Check the feedback below to see what it's all about!

***************************************************************************
⇒ Bundles Available ⇐
★ Buy the Seasonal STEM project bundle and save money off of buying them individually!

Save this product for later