Purchase $25 in teaching resources and save $5.
Purchase $50 in teaching resources and save $10.
Looking for a specific topic or standard? Search below!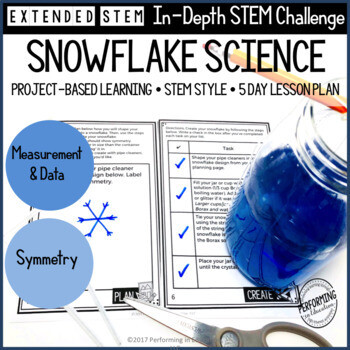 Snowflake STEM Project-Based Learning: Symmetry, Data Collection (5 Day Lesson)
SKU 00230
Product Details
Are you looking for more extensive hands-on STEM challenges for your students? Check out this Snowflake STEM project-based learning activity! This is a perfect STEM activity for the winter months! It's aligned with language arts (ELA) standards, math standards (symmetry and data plots), and science / engineering standards (NGSS). I recommend this project for grades 3, 4, and 5.
Print & Digital Versions of the Student Pages are BOTH Included!
*A sample 5 day lesson plan and rubric is created. Student pages are included as well. It's all inclusive!
Science Concepts
Depending on the grade level, this project may meet standards under the following topics:
Earth's Systems
Climate and Weather
Natural Hazards

Math Concepts
Data Tables / Data Collection
Line Plots
Symmetry

ELA Concepts
Speaking and Listening: Discussion
Main Idea & Key Details
Text-Based Evidence

Can be used for:
CCSS.MATH.CONTENT.5.MD.B.2
Make a line plot to display a data set of measurements in fractions of a unit (1/2, 1/4, 1/8).

Follow the process below to complete your project:
1. Read about how snowflakes form with the included passage.
2. Further research snowflakes (asking questions / citing sources).
3. Design a snowflake under certain parameters (engineering process).
4. Make your design better (revise).
5. Measure diameter (or width) and show symmetry (math).
6. Collect and display data (math).
7. Reflect.

Supplies: A supply letter to send home to parents is included. Check out the included blog post for more info on supplies (and links to buy the exact supplies I used).

Borax
pipe cleaners
scissors
pencils
string
large heat-safe cups or large jars
measuring cups
food coloring
glitter (optional)

Rubric included!

All of my PBLs include e-mail support. Check the feedback below to see what it's all about!
***************************************************************************
⇒ Bundles Available ⇐
★ Buy the Seasonal STEM project bundle and save money off of buying them individually!

Save this product for later