Purchase $25 in teaching resources and save $5.
Purchase $50 in teaching resources and save $10.
Looking for a specific topic or standard? Search below!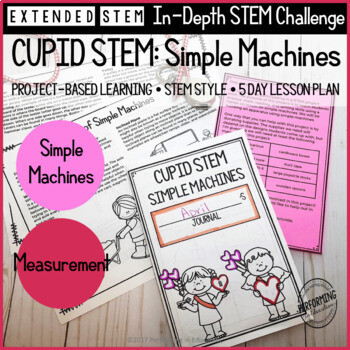 Valentine's Day STEM Project-Based Learning: Simple Machines (5 Day Lesson)
SKU 00236
Product Details
Are you looking for more extensive hands-on STEM challenges for your students? Check out this Valentine's Day STEM project-based learning activity! This is a perfect STEM activity for the winter months! It's aligned with language arts (ELA) standards, math standards (symmetry and data plots), and science / engineering standards (NGSS). I recommend this project for grades 3, 4, and 5.

Print & Digital Versions of the Student Pages are BOTH Included!

*A sample 5 day lesson plan and rubric is created. Student pages are included as well. It's all inclusive!

Science Concepts
Simple Machines (passage included)
Math Concepts
Measurement

ELA Concepts
Speaking and Listening: Discussion
Main Idea & Key Details
Text-Based Evidence

Follow the process below to complete your project:
1. Read about different types of simple machines
2. Ask questions & further research simple machines
3. Design a simple machine to help Cupid deliver a gift to the teacher
4. Build the design & test
5. Revise the design to make it better
6. Make a new and improved design & test again
7. Reflect

Supplies: A supply letter to send home to parents is included. Supplies will vary depending on what your students create. Some possible materials are included in a letter home, as well as a blank letter home for you to customize.

Rubric included!

All of my PBLs include e-mail support. Check the feedback below to see what it's all about!
***************************************************************************
⇒ Bundles Available ⇐
★ Buy the Seasonal STEM project bundle and save money off of buying them individually!

Save this product for later